Greg Hebert Releasing the eagle. Greg and Damen Hurd rescued her last month. Greg looks pretty happy! We are sure the eagle is too!
We released her exactly where we found her. We usually do unless it isnt safe to do so.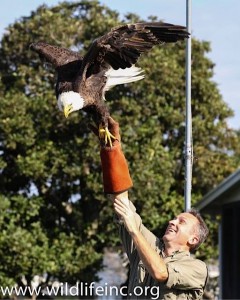 We just want to say thank you to Gail Straight and Dr.Clay Wilson for the work they put in with the eagle. Gail and Clay do a lot of the work behind the scenes and if it wasn't for Dr.Clay we wouldn't be able to x-ray and treat all these injured animals on a moments notice. Thank you!